Obesity – the largest and most notorious of lifestyle disorders. Notoriety is the word used here because of the complexity involved in getting a person afflicted, to completely come out of it. Obesity is not just a physical affliction. The aspect of stress or anxiety, associated with it, if not completely removed, can be detrimental to the person. It would just set obesity back into the equation.
Overweight and Obesity go hand in hand. The definition is "The abnormal or excessive accumulation of fat that may impair health"
Fat accumulation is of 2 types – Under the skin – Subcutaneous Fat and around your organs – Visceral Fat.
This is measured by BMI – Body Mass Index
BMI is a simple index of weight for height that is commonly used to classify overweight and obesity. Obesity is usually due to an imbalance between the calories consumed and calories expended.
BMI is calculated by a simple formula:
Weight (in kilogram) / (Height)2 (in metres) 
The result can be classified to understand if a person is obese: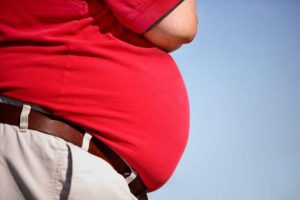 | CATEGORY | BMI |
| --- | --- |
| NORMAL | 18.5 – 24.9 |
| OVER WEIGHT (PRE – OBESE) | 25.0 – 29.9 |
| OBESE (CLASS I) | 30.0 – 34.9 |
| OBESE (CLASS II) | 35.0 – 39.9 |
| OBESE (CLASS III) | 40.0 and above |
In today's world, stress being the ruling factor in our lives combined with a sedentary lifestyle, the stage is set for obesity.
Ayurveda clearly states that "Health is a situation where there is optimal functioning of the physiological aspects of the body along with the bliss of the Mind, Body and Soul". 
Optimal functioning of the physiological aspects means optimal body weight too. So to get back into shape, a combination of healthy lifestyle along with the measures taken to reduce excessive fat, is the right way.
Ayurveda also suggests remedial measures like Udwarthanam for reducing excessive fat.
It is a therapy measure used to help "Reduce Kapha ( one of the humors of our body which helps in increasing fat), melt Medas (Fat), strengthens the body parts and improves the lustre of the skin"
"So to help you reduce weight as well as keep your body in shape…
K.S.Varier's ASHTANGA Ayurveda Clinic presents you with the 
Weight Reduction Packages tailor – made for you!!!"
Atarpana – Reduce your Body Weight
Pure reduction of your subcutaneous fat. Makes you feel lighter. A number of sittings regularly paired with healthy lifestyle can help you shed some weight. Recommended for those who would like to take it slow and steady by pampering your body into being supple and cut down on the fat.
Apatarpana – Weight Reduction – In and Out
Helps you reduce the excessive weight around your body in a moderately vigorous regimen which includes improving your digestive fires (Agni) to re-activate your metabolic health as well as physical methods of reducing weight. Recommended for those who want to reduce both Visceral and Subcutaneous fat.
Lekhana– Weight Reduction to make you light as a feather
The ultimate experience of weight reduction metabolically and physically teamed with bringing in the unique feeling of lightness to your body. Recommended for those with heaviness, reduced appetite and feeling of morbidity.
Laghavam –  Instant lightness.
Short term, Immediate feeling of lightness for those who are wanting a preventive technique to avoid adding on weight.
So go on…
Take care of yourself…
Get out of Obesity and Morbidity…
Hoping to see you healthy always…
Lovingly yours,
Team ASHTANGA.